Six weeks ago or so I wrote a post about an unredeemed, and somewhat magical, pawn ticket that I've kept in my wallet for the past sixteen years. You've seen those TV advertisements for the "credit card" mafia front called Capital One. "What's in your wallet?" they ask. Well, I used to have a Capital One so-called "credit card"1 in there , but I canceled the account last year –I'm still paying down the balance– so I have nothing with their name on it in my wallet to remind me that I'm still their bonded serf. In addition to that Magic Pawnbroker ticket I have this my wallet: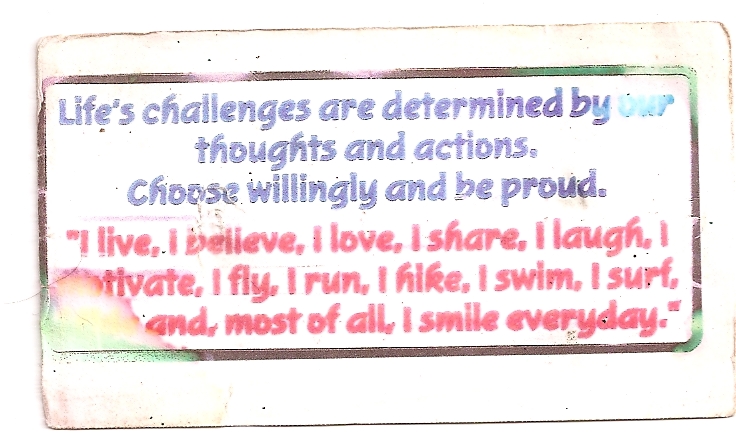 Some of the words are water-blurred, so here's a transcription:

"Life's challenges are determined by our thoughts and actions. Choose willingly and be proud. 'I live, I believe, I love, I share, I laugh, I motivate, I fly, I run, I hike, I swim, I surf, I ride, and, most of all, I smile every day'".
It's a reproduction of a card that was found in the effects of an extremely close friend of mine, a former professional athlete (snowboarding), who died, much too young, of ALS, nearly two years ago. He indeed lived up to this credo, and, as I said in a eulogy at a memorial service for him in a packed-to-overflowing(non fundie, non-evangelical) church in his adopted home town of Colorado Springs, "he was a happy man until the day he died."
---
He was my younger brother Paul. Here's a photo of us taken about 6 years ago at the annual family reunion on the proverbial "Jersey Shore", where my family has taken its vacation for the last fifty years.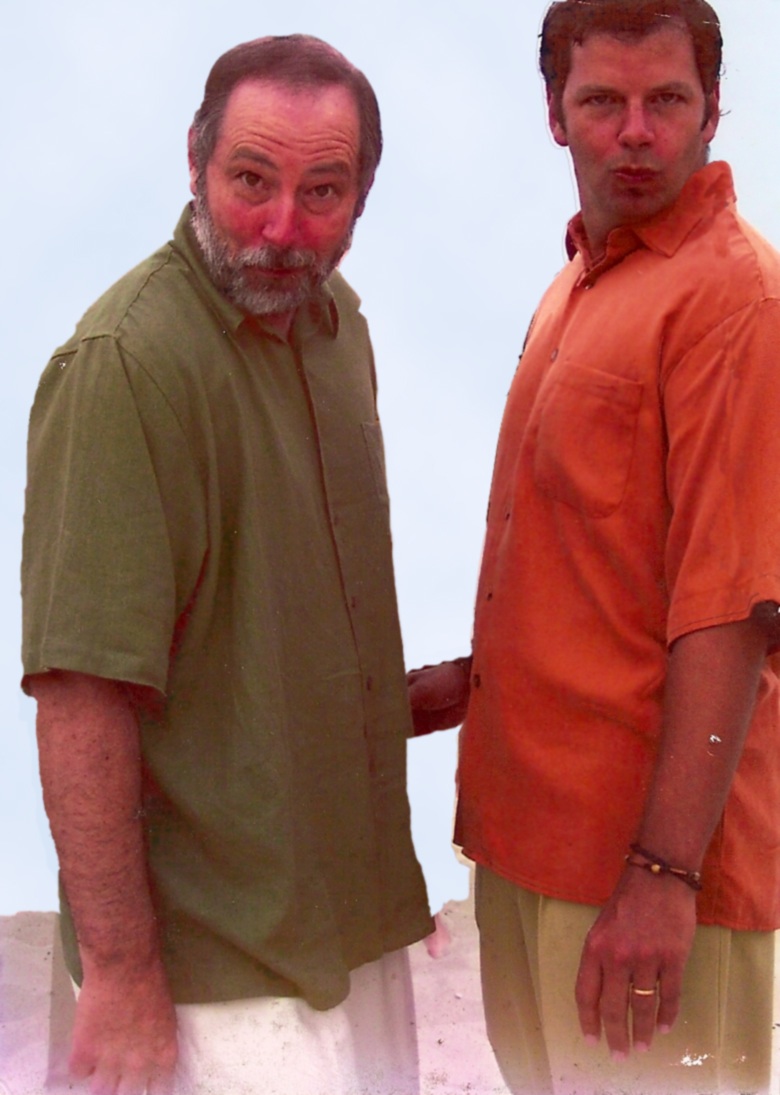 What we're doing in this photo — or, rather, what Paul's doing and I'm failing to do– is the "Blue Steel" pose from Zoolander. Some of the lines in the photo are squiggly because some background noise has been photoshopped out. But you can see Paul's hand reaching out to me for balance. A few weeks after the photo was taken Paul lost his ability stand unassisted. And then for the next several years the disease followed its cruel implacable course, and eventually he died. (Paul lived much longer than typical for people diagnosed with this horrible disease — I have some theories about why that was, but that's not for public discussion today, or probably, ever.)
In cleaning out some of my own papers and "effects" yesterday I came upon a copy the letter of recommendation that Jake Burton, founder of Burton Snowboards, wrote for Paul when Paul left Burton Boards — of which he had been a four-year employee, professional rider, and operational Vice President at the ripe old age of 24– to go to grad school. This was in the early, early days of snowboarding, when many people considered riding a fad that would soon pass. "Although Paul is nine years younger than I am," Burton wrote (this from memory, I don't have Jake's paper in front of me right now), "I came to depend upon him when I needed a mature person's advice".
Well, I'm ten years older than Paul, and surely miss that mature person's advice. He was always more mature that me. Paul didn't choose to get ALS, but he chose how to deal with it, and he dealt with it with more humor, grace and courage than I can properly describe. He wasn't a saint, but in some ways he was pretty damn close as far as I'm concerned. I keep that card in my wallet to remind me that how I face my own situation is up to me.
Here's the remarks I delivered at his memorial service:
Paul Damien Sundman was born on September 14, 1962, in Montclair, New Jersey, the fourth son and last of seven children born to John Sundman, a native of New Jersey, and Margaret McFall Sundman, who had emigrated to the United States from Scotland after the Second World War. The family name "Sundman" is Swedish, by way of Finland, from which Paul's grandfather emigrated in the early part of the last century.
Paul spent the first year of his life in the farmhouse at 31 Grandview Avenue, in North Caldwell, New Jersey, then moved with his mother, father, brothers, sisters and paternal grandparents half a mile up the road to the new family house which was built by his father. During the years of Paul's childhood, his hometown became suburbanized as the remaining farms and woodlands were converted to housing.
From the moment of his birth he was charming, tall, dark and handsome. He was the apple of his grandparent's eye and was doted upon by his older brothers and sisters. He had a special bond with his cousin, the late Tommy Seebode.
Paul had a typical suburban American childhood, attending small neighborhood schools, hanging out with friends, playing sports, riding his bike and skateboarding.
Paul's skill at collecting halloween candy was legendary, and has been inherited by his son Kyle.
After his 8th grade, Paul moved with his parents to Perrysburg Ohio, where he attended high school for one year. The family then moved to Connecticut, where Paul attended high school through graduation.
From an early age his athletic gifts were evident. In high school he played soccer, and was named to several all-conference teams. His position was midfield. He began surfing at eight, under the tutelage of his oldest brother Michael.
It was in Ohio that a lucky confluence of events proved momentous for Paul and, eventually, for literally millions of people all over the world. The family house was located high above the Maumee River, with a long steep hill, sort of a natural backyard ski run, down to the water. Immediately after Paul and his parents had moved to the new house a big storm came up and dropped so much snow that there was a snow emergency for six weeks. And Paul had this Snurfer, a snow surfer. Already a skilled skateboarder, and with nothing else to do, he took his chops outside. We'll come back to this.
Paul attended Vanderbilt University in Tennesee, where he majored in English, minored in French Literature, and played varsity soccer for four years.
While at Vanderbilt, Paul spent a semester of his junior year studying in France. While there, Paul met Jennifer Ann Young, the daughter of the architect James Young of Colorado Springs and his wife Ann Young. Paul and Jennifer were married five years later, and celebrated their 20th anniversary in January of this year. Their son Kyle was born in 1992 and daughter Jillian in 1995.
While in high school, as a consequence of his obsession with Snurfing, Paul began a correspondence with a young man named Jake Burton Carpenter, who was struggling heroically to start a new company in Vermont called Burton Snowboards. Jake's vision was to build not just a company, but a whole new sport and industry.
Paul and Jake stayed in touch over the next several years, and eventually Paul took a summer job and he and Jake became close. Upon graduation from Vanderbilt, Paul went to work at Burton Boards. When Paul was twenty-two years old, Carpenter made him Vice President and National Sales Manager for the still-tiny Burton Snowboards. Paul was involved with all facets of the company from manufacturing to marketing to competition boarding.
Since at that time snowboarding was still banned at many ski resorts, a big part of Paul's job was to convince safety directors that snowboarding was no more dangerous than skiing. So Jake paid Paul to go from mountain to mountain all over North America, showing the world what snowboarding was all about. Slowly, one small victory at a time, snowboarding became allowed, then took root.
As such, Paul was one of the founders of the sport and one of the first people in the world to be paid to ride a snowboard.
Paul left Burton Boards to get an MBA at Georgetown, in Washington DC, where Jennifer was working at the National Zoo. He wanted to get more formal training, but also, as Jake told me, "clearly he was in love with Jennifer and needed to be near her."
After obtaining the MBA, Paul did a two-year stint as a consultant in the corporate world on a variety of assignments. Paul loved learning more about business, but grew weary of putting on a hot wool suit in the sweltering Washington DC summers and spending so much time in corporate meeting rooms. He always was a hard man to keep indoors.
Paul and Jennifer moved to Colorado Springs, where Paul soon opened his mountain bike and snowboard shop called "Momentum". It was a wonderful place full of bikes, boards, life, energy, and fun. But small retail is a nearly impossible business, and Momentum was forced to close its doors after four years.
At the tail end of the Momentum period, Paul created a clothing line called "High Ridge" for mountain biking. Like other clothes for bike riding, High Ridge clothes were padded and comfortable. Unlike all other biking clothes that were then available, High Ridge clothes did not look dorky. Had he done nothing else in his life other than create non-dorky clothes that you can wear when riding a bicycle, his life would be worth celebrating today.
After Momentum closed, Paul went to work for his father-in-law James Young, owner of a several apartment buildings here in the Springs. In this capacity, Paul maintained the facilities, ordered equipment and scheduled repairs, provided compliance information to the appropriate government agencies, handled tenant relations, and totally computerized everything. He was universally esteemed for his work ethic, cheerful disposition, and "people skills". He continued in this job until he was unable to breathe unassisted.
Paul was a devoted husband and father. He was a dutiful and loving son. He was a great friend. The fact that so many of Paul's pals from North Caldwell, New Jersey, a town he left when he was 13 years old, are here today tells you something about what kind of friend he was. And as a brother, he was ideal. He was kind, he was funny, he was open, he was hardworking, he was truthful and he was loyal. He was able to administer a kick in the ass when a brother–for example, me–needed a kick in the ass. But his brotherly love was never in doubt.
He was a great soccer coach and a great teacher, not only because of his athletic gifts and understanding of the game, but also because he delighted in everybody's success.
Paul love biking. He rode 1,135 miles on his mountain bike in 1999, a number that Jennifer was able to provide for me with great precision because it's written in indelible marker on their garage wall. He liked to go early in the morning, before dawn sometimes. He once broke his collar bone, and once had a race with a bear. He loved local trails like Capn' Jacks and Buckhorn. He rode his bike to the top of Pikes Peak several years in a row in the annual race.
Paul became adept at yoga, and went from being what he described as "super stiff and inflexible" to doing some pretty amazing things. He took Yoga seriously and joyously, going to many classes, and getting up to do his routine in the living room at 5:30 am.
Paul loved to read books on yoga, and on the mind, and he relished autobiographies. He recently listened to Eric Clapton's and Barrack Obama's books on CD and loved them.
His taste in movies ran to comedies, and the stupider the better. He liked Monty Python and "Spinal Tap" and "Best in Show" and Will Ferrell movies. Last year Paul and Kyle and I went to see "Talledega Nights" — that Will Ferrell movie about Nascar racing — and the poor people all around us were terrified that the guy in the robot wheelchair was going to croak from laughter right before their eyes.
Our brother-in-law Bob told me that Paul used to email him to talk about stocks. "He was quite the riverboat gambler", Bob said. And why wouldn't he be, after seeing what Jake Carpenter had done with Burton Boards, or what his dear friend Rob Burnett had done with the Letterman Show, or what his brother Peter had done in his career? Paul was an inveterate optimist and he believed that people were good and that they would succeed.
Paul loved music: The Band, Little Feet, Phish, the Beatles, REM, the Stones, Clapton. Recently the Dave Carter-Tracy Grammer duo, and Peter Mayer were some of his favorites.
He liked good beer and gin-and-tonic.
He was on the board of Cheyenne Commons, charged with saving and protecting the open space across the street from the house that he and Jennifer and their children have always called home.
Then he got ALS, and, as you all know, he stared down that disease with great courage, humor and grace. Shortly after getting the diagnosis, he flew with Kyle in a two-seater Husky airplane from Colorado to the Sundman annual reunion on Long Beach Island in New Jersey, and there spent several days taking 30 of us up, one at a time, for flights over over that place which is so dear to our family. Knowing that his time was probably short, he made the most of it, seeing the world, learning to ski while sitting. . . so many things. Paul researched the disease hopefully but soberly and realistically, investigating standard, experimental, and non-western therapies. I am not a scientist, but I believe that the traditional Chinese medicine he took extended the length and quality of his life.
His middle name was Damien, after the leper-saint of Molokai, and like Damien, Paul, in the face of bodily torment, was fearless and without self-pity.
He was a happy man until the day he died.
He brought great joy to so many of us while he was here, and the manner in which he embraced life and accepted its challenges will be an inspiration to all of us who loved him as long as we shall live.
More reflections on Paul and my farewell to him can be found in a contemporaneous diary here.
---
1. They call it a "credit card", but it's really a species of hookworm that you can read about in this great book.