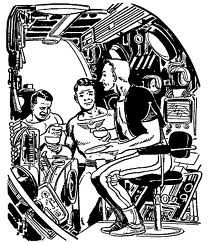 Six years ago I was hired by the University of Wisconsin to lead its development team on an internationally distributed open source project. Later a company named Qwaq was formed by project leaders and it later hired me and some of the other developers from various institutions. That company is now called Teleplace and its product sounds like science fiction, but it works. I've been blogging about the work since day one, and papers have been published by many people, but in the next six entries I'm going to try to bring together what I feel are the most significant accomplishments of all the various developers, and the science that has made them possible.
Credits:
Programmers: Farhad Anklesaria (U. Minnesota Office of Information Technology), Derek Arndt (UM), David Faught, Brad Fowlow (Teleplace), Bert Freudenberg, Matthew Fulmer (Duke Office of Information Technology), Josh Gargus (U. Wisconsin Division of Information Technology, TP), Rieko Kadobayashi (NICT), Jack Keel (UW), Craig Latta (Fuji Xerox PARC, TP), John Light (Intel Research), Corwin Light-Williams (Intel), Mark McCahill (UM, Duke), John David Miller (Intel), Eliot Miranda (TP), Peter Moore (UM), Yoshiki Ohshima (Viewpoints Research Institute), Andreas Raab (Hewlett Packard Laboratories, TP), David Reed (HP), Martin Shutze (UW), David Smith (VPRI, TP), Howard Stearns (UW, TP), Ron Stewart (UW), Ron Teitelbaum (TP), Liz Wendland (UM), Bob Westergard (TP), Takashi Yamamiya, Anthony Zampogna (UM), and the thousands who have worked on Squeak and Smalltalk.
Other Technical: Chris Croswhite (TP), Alan Kay (HP, VPRI), Yutaka Kidawara (NICT), Julian Lombardi (UW, Duke), Rick McGear (HP), Greg Nuyens (TP), Katsumi Tanaka (NICT), Keith Weng (TP)
Next: Done!