Those meanines on the internets keep showing this little video of W's very-own Mini-me, McSame McBush McCain, saying how staying in Iraq for a hundred years would be "fine with him".

But everybody knows that it's unfair to show Straight-Talking Maverick St. John McCain saying anything politically unpopular! St. John got mad. St. John got sad. St. John went to his jillionaire-millionaire wife looking for a little love, but she was too busy plagiarizing a cookbook to notice him. He wound up back in the arms of the Hugger-in-Chief!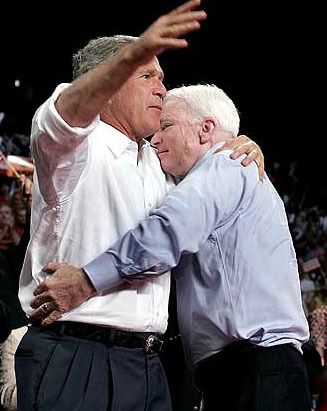 Now that's what I call "straight" talk!