Latest installment of a continuing series. In this issue: I get snubbed by the Martha's Vineyard Book Festival.
So the other day I sent a note to the organizers of the Martha's Vineyard Book Festival inquiring about setting up a booth there from which to do my Billy Mays thang. (I remembered having been turned down two years ago, the last time the MV Book Festival was held, when I made a similar request. But I couldn't remember the rationale given. Had I missed a deadline? Had they run out of room?) Anyway, their response this time was <Wayne Campbell voice> DENIED! </Wayne Campbell voice>.
I thought their DENIED notice was a little bit snotty, so I replied with a note of my own that was also a little bit snotty.(But not too snotty, I hope. On a snottiness scale of one to ten, I would put our exchange at about a "2". Read on and you can judge the level of snottinessosity for yourself.)
Below the fold: The prissy exchange, plus! what's the difference between being a "Vineyard Writer" and "A writer who trades on the Vineyard"?
---
The festival organizers seem friendly and earnest enough, but certainly prissy. The event itself features a bunch of "Vineyard Writers", the preponderance of whom are what we locals call "summer people"– especially celebrity types like Alan Dershowitz.
I did attend the Festival two years ago and it was a snoozefest, but a pleasant-enough snoozefest. In addition to lectures going on at various large tents, there were authors set up at little booths where they were chatting with festival-goers and autographing books. There were people walking about who both had money and liked to read (as evidenced by the stacks of books they were carrying from booth to booth), which certainly would make having a booth at the Book Festival from which to pimp my warez a more promising proposition than having a booth at the Tisbury Street Fair, fun though that may be. (I've had a booth at the 2008 & 2009 Tisbury Fairs & have sold a few dozen books. But most Tisbury Street-Fair goers are not in the market for books, and many of them candidly admit that they either don't read fiction or don't read for leisure at all.)
The Prissy Exchange
So here's the email exchange I had with the Festival. I don't think it's improper to share their note with the world since it contains no personal or confidential information & does not put the sender in a bad light.
My first note:
From: $me
Subject: Local author inquiry
Date: July 10, 2009 9:22:45 AM EDT
To: info@mvbookfestival.com

Hello Friends,

I'm a local writer, full time resident of Tisbury.
http://www.mvgazette.com/article.php?19690
Might I get space to set up a table from which to pitch my books?
Regards,

jrs
The linked-to article is a very nice piece about me and my latest book The Pains that appeared last January in the Vineyard Gazette; in the first sentence I'm described as a self-publishing author.
The reponse came back shortly:
From: info@mvbookfestival.com
Subject: Re: Local author inquiry
Date: July 10, 2009 9:31:50 AM EDT
To: john@wetmachine.com
Reply-To: info@mvbookfestival.com

Dear John… thanks for your inquiry and interest in the book festival. The book festival has three tents with one author speaking at a time for 45 minutes in each tent. Unfortunately, we cannot accommodate book sales by anyone other than the book store. We do not include self published authors in the festival. Lots of luck with your book and we hope you will come to the festival.
best regards, $festival_organizer
Aha!, so that was it: self-publishers not wanted. (I doubt that the organizer read the Gazette piece: only nine minutes elapsed from when I sent my note until the response came back. Moreover anybody who had read the piece would know I have three books out, not one.)
Although I'm used to anti-self-publisher bigotry, it still frosts my doughnuts a bit, so, after proper deliberation I sent the (moderately?) snarky response that appears below.
For context, a bit of Martha's Vineyard geography: The island has an area of about 100 square miles; there are six towns on it. Vineyard Haven (AKA "VH"), where I live, has a small-town feel to it (the same is true of Oak Bluffs & Edgartown). Chilmark, where the festival is held, has a rural feel. Lots of open fields and woodlands and farms. Also in Chilmark: rich people. Of the dozens of people who park their private jets at the Martha's Vineyard airport every summer, a good proportion of them are going to their secluded Chilmark estates. For me to drive, in August, from my house to the place where the Festival is held would take about 30 or 40 minutes.
Bunch of Grapes is a very well known bookstore in Vineyard Haven, about which more in an upcoming post.
From: $me
Subject: Re: Local author inquiry
Date: July 10, 2009 12:38:21 PM EDT
To: info@mvbookfestival.com

Hello $festival_organizer,

Thanks for your prompt reply.

If having all sales through the store is how you finance the festival, then I can see the logic in that — although it's not hard to imagine other funding models. Excluding self-published authors, however, seems, at best, unfortunate.

As for my trekking to to Chilmark to see "writers" like Alan Dershowitz and Linda Fairstein, well, I think I'll pass. And most of the other writers on your roster that interest me are bound to show up at Bunch of Grapes or the VH Library if I'm patient enough.

Kind regards, and I hope it goes well.

jrs
It turns out that my assumption about book sales financing the Festival was presumptuously generous, for (as a noticed after I had sent my note), the MVBF does not lack for sponsors, who include:
Chilmark Town Affairs Council
Summer Program Committee of the Chilmark Community Center
Chilmark Free Public Library
Edgartown Books
Martha's Vineyard Gazette
Martha's Vineyard Magazine
Massachusetts Center for the Book
Cape Air
Point Way Inn
Plum TV
So why, then, the insistence that all sales go through the book store? I can see why Edgartown Books might ask for that concession, but not why the MVBF would give it. The MVBF's rationale is not really any of my business, of course. However, requiring that all sales be through the bookstore does tend to give the impression that at MVBF the exalted writers should not be publicly associated with base commerce, which some people (me, for example) might take as a Chilmarkian affectation. (Makes me wonder how Harlan Ellison would fit in there:
)
Writers who trade on the Vineyard
My friend the writer & artist Ted Hewitt who long ago created, by the way, this now-iconic Vineyard image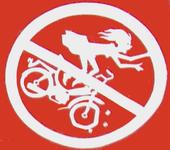 is given to railing against writers who "trade on the Vineyard", that is, make conspicuous references to Martha's Vineyard settings in order to give their books some kind of cachet. Ted is particularly disgusted with so-called poets who do this. "They wouldn't know a poem if it kissed them on the lips," Ted says. "They don't write poems. They make lists of all the pretty things."
The late novelist Philip Craig was a master at "trading on the Vineyard". He wrote conventional little murder mysteries set on Martha's Vineyard & peppered them with references to recherché locales & "colorful" "Vineyard types". Here on the island, his books sell by the metric ton, mostly to vacationers. Good for him; he had a shtick and he knew how to use it. His books aren't bad for what they are.
Linda Fairstein, whom I dissed in my email, doesn't set her mysteries here– but she does "trade on the Vineyard" in her books because her main character has a house here where she comes to get away from the stresses and strains of her Kay-Scarpetta-like life in the Big City. Wouldn't you just know it, the troubles follow this character to idyllic, fictional Chilmark (which is populated by colorful "Vineyard types". . .). The main difference between Fairstein and Craig, however, is not that she's more of a carpetbagger than he is, it's that she's a much suckier writer. (Also, I think she's a bit of a jerk, which was the real reason for my snark. Also, my scare quotes to the contrary notwithstanding, Dershowitz is, I suppose, a writer–even though I think of him as more celebrity than writer. And half of his books are mere polemics–which may or may not be real "writing," depending on your grading scale. It's just that he's so damn obnoxious, not to mention being virtually inescapable here in the summer. So that's why I dissed him. Call it chutzpah on my part. . .)
None of which has much to to with my main topic of the trauma of being snubbed by MVBF (poor me!). But for a long time I've been looking for an excuse to use Ted's hysterical line "They don't write poems. The make lists of all the pretty things," and this seemed as good an opportunity as any.
And I do think it's kind of irritating when summer people who happen to write books get identified as "Vineyard Writers" & quite nicely promoted at this festival while full-time residents like me are left out in the August cold. (True, I'm a washashore too. But I've been here for nearly 20 years & have paid some dues, I think. (About which dues I'll have more to say some other time.))
A Contrasting Tale
A few years ago I walked into a place called Softpro, in Burlington, Massachusetts, a bookstore that catered to computer geeks. I introduced myself to the owner, a guy named Rick Treitman. I showed him a copy of my self-published book, told him why I thought he should carry it in his store, and mentioned a few mutual friends who could provide personal references for me. He said, "I'll take a dozen, why not?" and whipped out his checkbook. Over the next few years I sold him several dozen copies of that book and its sequel.
Rick, incidentally, owns a summer place in Chilmark. I don't think he has anything to do with the Festival. . . but maybe. . .
Breaking Away in Chilmark, anybody?
So it's the tirtieth anniversary of the movie Breaking Away, that inspiring tale of how local riff-raff (i.e. people like me) in Bloomington, Indiana, long-used to being scorned and condescended to by the snobs at Indiana University (gee, I wonder who they map to?), engineer an invitation to compete in the annual "Little 500" IU bicycle race. I wonder: d'ya think there's any chance that MVBF will similarly relent and invite me (with my hand-lettered signs and Billy Mays pitch) to sell my books right alongside their "real" writers? I'll bet I could clean up! Me and Henry Louis Gates, jr., mano a mano!
Think it could happen?
Nah, me neither. But wait a second. Maybe I can find some abutting property owner who would let me set up a booth on her lawn to vampire off the MVBF traffic. Now there's a gonzo idea. . .