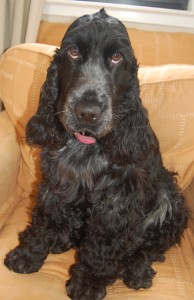 How often have I felt that I had to create Z, but before doing that I had to build Y. And of course before doing either, I really needed to find out how X affected either. This evil has many forms: feature creep, analysis paralysis, and so forth. I know it's crap when other people do this, but every single time it comes up for me, I'm absolutely certain that this time it really is Important And Necessary to do all this other stuff first before the task at hand.
I'm as dumb as my dog.
That is, I'm every bit as steadfastly earnest in my insistence that it really does all have to be done, and I'm just as wrong.
Olivia is, by all accounts the world's coolest and cutest English Cocker Spaniel. I'm confident about this because the title used to be held by our previous English Cocker Spaniel, Oliver.
It was hot this week. My daughter selected a few dozen of the balls that Olivia had carefully secreted under and within the couches, chairs, and china cabinet. My daughter then threw them into the pool, all at once. Olivia jumped in and got the first ball. She nestled it in her ample lips, looked with her Cocker's eyes at the edge of the pool, and then swam with the first ball earnestly to the second. On reaching the second, she carefully spit out the first — leaving it where she could find it, right there in the pool — and took the second one in her mouth. A sound plan. She swam with the second to the third, and with consideration offered the second ball to that spot in the water before depriving that space of the third ball. Then she went to the fourth ball…
I think Olivia has shown me the single most common and important danger in all creative enterprises.