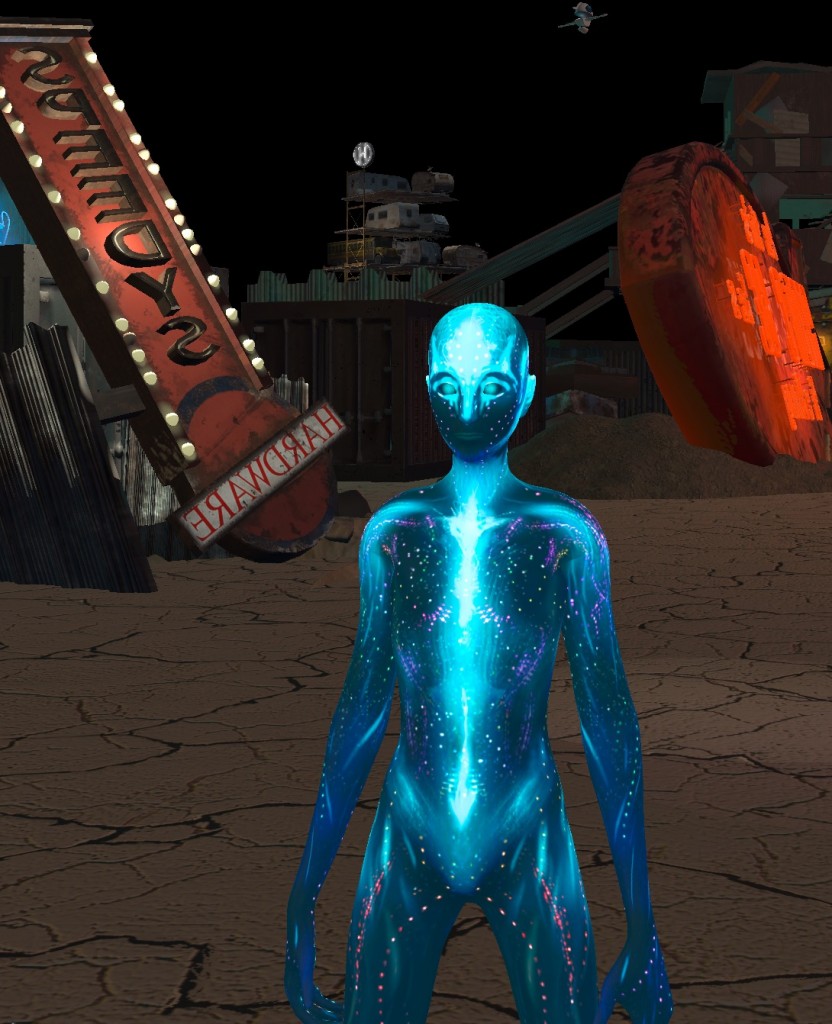 There are lots of old and new VR sites with prognostications. This guest blog from a VCpreneur has four "requirements" for social VR, and it sparked some discussion at our office.
It reads to me very much like this investor fellow might be talking with some startup that features his four points, and he just wants to sort out whether the concepts are sticky. I'm imagining a company that uses Facebook for login, uploads your 2D and 3D albums and videos into your 3D space (which is zero-install via WebVR), lets you and your friends like/share from in-world, and folks that click on those shared things in Facebook get brought into your 3D space at the corresponding item. (I pitched such a thing five years ago as "Beyond My Wall", using the Unity browser plugin instead of WebVR.)
One of the blogger's "requirements" was that participants use their real-world identity, and this was what interested our gang, both for and against. I think this is a red herring. Although I use my real name online alot, my gut is that an alwful lot of VR is going to be about sex, and folks won't want to use their real name. But overall, I don't think it's killer one way or the other. I'm guessing that he's trying to turn the limitation of Facebook-login into a feature called real-world identity, and I think it's a stretch. There's clearly a lot of things that went into making Facebook win over MySpace, and I'm not persuaded that that real-world identity is the magic ingredient. Indeed, both Twitter and his other example, Youtube, are both counterexamples. I think real-world identity can be a part of many potentially successful killer apps, but I don't see it being required for all such killer apps. (I think verified identity, whether real-world or not, will be a great service for High Fidelity to offer, but it won't be required for everything.)
I do think he's on the right track, though, with his feature set including pre-established friend links and content-sharing. But I'm not sure the guy has really understood why those two things matter or what they are part of. They feed the virality of a lot of social media winners, but the magic is in the viral math, not specifically in the features. For example, "pre-established friends" is helpful, but not necessary for Twitter, Youtube, or EBay. I think that each one of a Facebook liked-story, Twitter hashtag, Ebay auction, and Youtube video/discussion page forms a micro-community of interest with a specific "address" that can iself be shared out-of-band. Each user can and does "belong" to many such micro-communities. I believe that's the real driver for virtuous-circle virality. High Fidelity is going to be great for this, because anyone can easily create any number of separate, persistent, domains of interest, and each one can have the computation shared by the people who are interested in it. (Our upcoming Beta makes it easy to organize one domain per user's computer, which I think is a good initial model.) Nothing else I've seen (not even Beyond My Wall) can scale like that. This is so very different from social VR startups that offer even a large number of hosted chat rooms.
Of course, none of this is to say what is interesting about any of these domains. That is a separate – and more important – question that remains. The blog (and this response) are about what qualities are necessary, given something interesting, for it to catch on.
Separately, the comment from DiGiCT was interesting, that the huge numbers of Chinese HMD sold are just a series of upgrades to very bad/cheap/unsatisfying units. I wonder if that's true.