So today, depending on how you reckon such things, more or less marks the end of the legendary Silicon Valley company Sun Microsystems, where I worked from January 1986 until April 1994 (badge #1387). Here's a photo (taken today) of me behind a giant-sized beer mug that I got from Sun on my 5th anniversary. It says, "In appreciation for five years of service in the Kingdom!"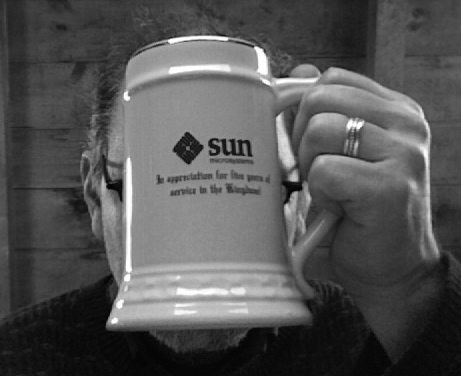 In addition to this beer mug, Sun gave me a fantastic education in hardware, software, management and office politics; a chance to spend at least one night in every hotel on the entire length of El Camino Real from Sunnyvale to Burlingame; lots of good friends and fun times; money, and most of all an inspiration for Monty Meekman, the nastiest villain in the best. novel. evar written about Silicon Valley, my very own Acts of the Apostles.
Below the fold: The day I almost put (Google CEO) Eric Schmidt's teeth down his throat.
UPDATE
My dear wife says this post makes me sound a whole lot angrier than I in fact am, and she's right. I just thought it was funny that two of the most arrogant bigwigs I encountered at Sun went on to become bigwigs at Google, an outfit that's known for its. . . arrogance. Most of my memories of Sun are of good friends and interesting challenges. (And a whole lot of airplane travel and hotel rooms.)
---