All six of you who have read my novels know that, among other things, I'm kind of obsessive about the Hofstadterian notion of the Strange Loop.
Yesterday in my internet voyaging looking for examples of Magic Eye pictures1 (of which I could not remember the name), I came upon Michael Bach's wonderful website about optical and visual illusions, which led me to Goo-Shun Wang's quite marvelous short animated movie Hallucii, about a guy (who quite resembles me, actually) who stumbles into a strange loop and, quite cleverly, (eventually, apparently), finds his way out.
Take a few minutes to watch, and see what it's like to be me: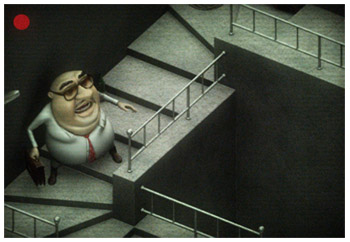 .
Below the fold: a footnote & a painful comment.
UPDATE The version on Goo-Shun Wang's site doesn't seem to be working today. Below the fold, I've embedded a youtube version.