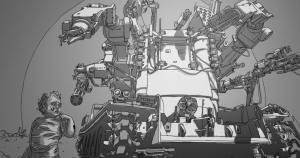 The invasion of Cassiopeia was age-inappropriate for the child: that much was clear.
All the worst words in the dictionary were being acted out live, and that violated the Standard with respect to age-appropriate subject matter. The child was present, which made the Standard paramount. On the other hand, duty was paramount.
The soldier was of the highest quality. No expense had been spared in his manufacture or maintenance. He was beautiful, too. He was as much a parade piece as a tool. Never the less, considering two things to be simultaneously paramount upset him.
The child bleated, "Where's my mom?"